After the major toilet paper crises, this one man who is the boss of a cleaning company decided to step in and help the elderly people. He has donated $5,000 worth of rolls to the disabled and elderly citizens of Australia and also started an online store to help stop the crisis. Dexter's Cleaning wants people to order from their online store for the elderly and they will deliver it to them.
1. In the world where everybody is panicking, this boss of a cleaning company is donating rolls of toilet paper to disabled and elderly people who can't get supplies themselves
The boss of Dexter's Cleaning in Melbourne has donated around 8,000 rolls of toilet paper to the elder citizens who are at high risk because of the deadly virus.
As the supermarkets keep getting empty in Australia, this man decided to help the people and has donated $5,000 worth of rolls to people in need.
2. The boss heard about the call for toilet rolls through local radio station Fox FM
He heard about the need for toilet papers for the elderly through the radio station Fox FM and immediately decided to help.
'I heard the presenters were looking for companies to donate to people who are struggling, so I sent them my remaining stock,' he said.
3. Presenters Fifi Box and Byron Cook couldn't help but praise Mr. Gordon on their social media channel
'Look at all the toilet rolls!' they wrote on Instagram, sharing a photo of the piles of toilet paper Mr. Gordon donated.
'Thanks so much Dexter's Cleaning.'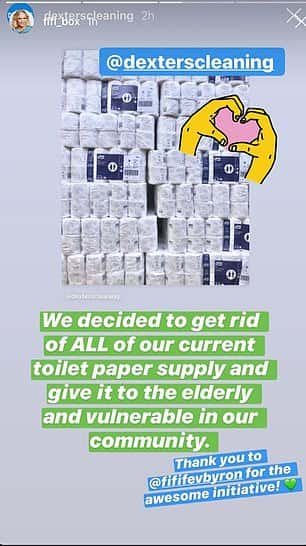 4. Dexter Gordon, 32, started this online store to help people look after each other
'I'm getting another order in tomorrow and as a result started an online store so that people can help look after those around them,' he said.
5. According to Dexter's cleaning, listeners can nominate someone in need to receive a care package through the radio website
They have started to help people this way after the major toilet paper crisis which has caused supermarket giants such as Coles, Woolworths, and Aldi to the crackdown. Many of the supermarket giants have now imposed a one-pack per shop restriction.
Image Credits: Dexter's Cleaning/Instagram