1.
The world is living through the worst nightmare this year. All we see around us is panic and chaos because of this pandemic. People are dying and the whole world is under lockdown and quarantine. Couldn't get any worse, right? During these crazy times, we are all for hearing some positive stories that will give us some hope.
Hailed as a miracle grandad, meet 75-year old two-times cancer survivor William Burns. who has successfully beaten coronavirus too and is now discharged from the hospital.
2.
The man was discharged from Crosshouse Hospital in Ayrshire to a standing ovation from staff and fellow patients after defeating the virus against all the odds. The former businessman will soon be turning 76 in April and is looking forward to spending this birthday with his loved ones. The first thing William is actually looking forward is to get a decent haircut!
"It's a miracle I managed to get through this," said William who lost a lung to cancer in 2007 and previously battled prostate cancer.
"But I have a really positive outlook and I believe in the power of the brain.

"There was never a moment when I thought I wasn't going to make it.
"I've had viruses before but this one was very bad.
"I'm used to getting infections as my throat has been scarred by treatments but my breathing was getting worse.
3.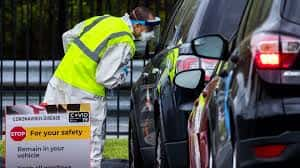 "The doctors sent me to hospital with no hesitation after asking a few questions.
"All the staff at the hospital were superb and I can't thank them enough for what they did for me while I was there.
"To get a standing ovation when I left was really nice. Everyone applauding as I came out the ward.
"It's lovely to be out. I've missed fresh air, without a doubt, and it feels great to be home and back in my own bed.
"It's also been six weeks since I've had a haircut and my hair grows very quickly!"
William's family went through a month of agony as he battled the illness alone in his hospital room.
Due to strict hospital restrictions, his wife of 54 years Ruby Ivy, their five sons and 14 grandchildren weren't allowed any physical contact with him.
4.
The first person William met after his discharge was his son Stewart who came to pick him up from the hospital.
Stewart said: "Without any contact it was terrible. We had to do a lot for my mum just to keep her calm and look after her as much as we could.
"Thankfully dad had his mobile phone with him and we were able to do a couple of video calls but they were kept short because of his breathlessness.
"We're all thrilled he's come out the other end of this. He is a survivor. I couldn't tell you how many times he's had pneumonia over the last 12 years since he had lung cancer.
"He's now managed to dodge another bullet here which is just amazing. He's in great spirits."
For eldest son James, the wait to see his dad goes on.
He is self-isolating as a 'high-risk' case having survived cancer himself.
James said: "It's hard for me because I can't just pop round and give him a hug and ask 'how you doing, dad?'
"But I'm so happy he's home safe. The doctor's weren't optimistic given his age and previous health conditions but we all stayed positive and prayed for him.