A very disturbing video circulating online shows how worse the situation has gotten in China especially in the city of Wuhan. The video shows three people, suspected of having coronavirus, being removed from their houses forcibly by officials wearing protective suits. Another video shows several police officers arresting a woman for not wearing mask in public.
1. People suspected of having coronavirus being forcefully dragged from their homes in Wuhan city by officials
People that might have the deadly virus are being forcibly taken to camps by officials in protective suits. Disturbing video shows the officials dragging the three people out of their homes, the third one was resisting so 5 or 6 of the officials are seen carrying him away.
2. This shocking video was shared online
In the disturbing video, the officials are seen holding onto two people by their arms, the third one refused to go so he was carried away forcibly while he continued to kick to get out of their hold.
3. According to the officials' reports, around 86 people have died in China alone on Friday
Globally, the death toll has risen to 724 out of which 722 are from China. The other two deaths are from Hong Kong and the Philippines.
4. 34.500 people have been affected by coronavirus all around the world and the number is increasing daily
Wuhan has a population of 14 million people out of which 5 million people left the city right after the virus outbreak.
5. Wuhan officials are carrying out door-to-door health checks to identify people who need to be isolated
It was revealed on Friday that China's central government ordered Wuhan to round up all suspected patients as well as their close contacts in mass quarantine camps. Ms. Sun demanded four types of people in Wuhan be put into mandatory isolation in quarantine stations: confirmed cases, suspected cases, people who have close contact with the former two, and those who have a fever.

6. Vice Premier Sun demanded Communist officials of all levels to take active lead in this 'wartime condition'
He demanded Communist officials of all levels to take active lead in this 'wartime condition', or face being 'nailed onto the pillar of historical shame forever'.
7. The below picture shows medical workers in protective suits talking while at the Wuhan Parlor Convention Center on Friday
8. Another video shared online shows several police officers arresting a woman for not wearing a mask in public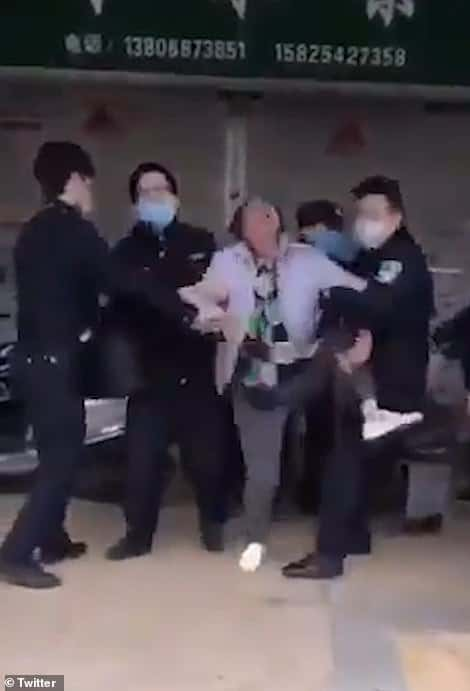 9. The woman can be seen trying to fight them off
10. Patients resting at a makeshift hospital in Wuhan
11. Vice Premier Sun Chunlan at a press conference delivering her order to Communist officials