Paris Hilton Posts Her Art On Social Media And The Internet Is Divided
Paris Hilton recently showcased her artwork and gave a virtual tour of her art room to her fans. While many people applauded the celebrity for enjoying her quarantine period by being creative, there were many who openly criticsed her over her work .
Paris Hilton is one of those celebrities who never cease to amaze us. One day she is a star of a reality show and the other day you will see her performing the duties of a DJ at a party. Recently the celebrity introduced herself as an amateur artist and gave her fans a virtual tour of her art room. Hilton told her fans that ever since the lockdown, she has been spending most of her time holed up in her art room.
Hilton showed everyone her collages and her art and people were quick to join the bandwagon of judging her. There were many who compared Hilton's art to a twelve-years old dream while others defended her art by saying that this is her quarantine activity and her way to be creative, both of which should never be judged.
1. Paris Hilton gave her fans a virtual tour of her art room
2.
3.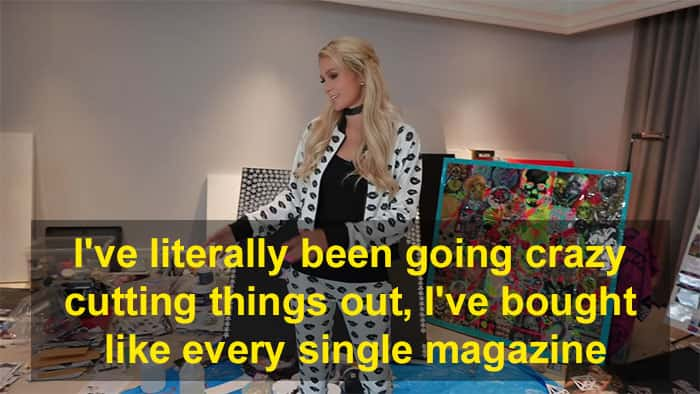 4.
5. She showed people her collages that she has been making in lockdown
6.
7.
8. Hilton even made a collage of her favorite skull pieces
9.
10. She absolutely loves drawing cats
11. This is the collage which she is currently working on
12. She even made a collage featuring her pictures
13.
14. She made a collage of her favorite emojis
15.
16.
17. A painting of a cat she made for her boyfriend's mom
18. She had even done a doodle of a cat for a charity called Doodles for Dollars
19.
20.
21. People criticized Hilton openly for her artwork
22. Others supported her for being creative and having fun during this quarantine period