1.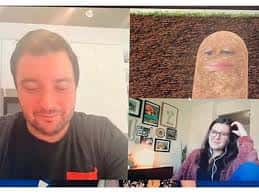 Nowadays we all have been hearing funny work from home incidents. There was one story of a lady taking her phone while on a video conference to the washroom, followed by another story of an Italian priest who carried out a prayer online with the Facebook filters on and then there was a woman whose scantily-clad boyfriend debuted in the background of her screen. While these stories are embarrassing but given the current situation of lockdown and self-isolation these incidents come as a breather for the public.
2.
The latest person to contribute to such mistakes is the Political Director of an American Advocacy group. Out of all the incidents so far, this one is the most hilarious. While on a video conference with her colleagues, Lizet Ocampo turned herself into a potato. The worst part was, the lady turned on the filter but had no idea how to switch it off. So here she was, stuck in the meeting full of people and Lizet sitting and acting as a talking potato.
The lady actually conducted the entire Microsofts team meeting as a talking potato.
Her employee Rachele Clegg seized the opportunity to roast - or in this case, fry - her boss on Twitter, capturing the hilarious moment.
"My boss turned herself into a potato on our Microsoft teams meeting and can't figure out how to turn the setting off, so she was just stuck like this the entire meeting," she captioned the screenshot.

4.
The post has become viral over the Internet and has been shared on social media platforms multiple times. Even Microsoft the provider of the video call shared the picture and commented "TOO FUNNY!"
5.
Lizet joined Twitter to respond to the hilarious incident. She wrote, "I yam potato boss," she joked, adding, "I yam glad this is making folks laugh at this time." She also took the opportunity to send a health message to everyone. "Please stay planted at home and safe! Potate out," she signed off.