Niall Horan, the One Direction star visited James Corden's famous Carpool Karaoke but the visit was not one of the pleasant ones.
Not that it was Niall's fault but it seems like the luck was just not with him.
It all began as soon as he sat in the presenter's motor and was asked about his biggest fear.
To this, Niall answered, "I hate birds. Mostly pigeons, I do enjoy a good walk in the park but the minute pigeons come into it...I think they're horrible, I just don't like them. I don't like the fact they're not that scared of us until you get really close to them. People have to run at a flock of pigeons to get them to move."
And that was it.
Corden decided to make his guest face his fear and two birds were then placed on his shoulder and head. As if the birds knew that the 26-year-old hated them, one of them pooped on him to express the mutual feeling.
"I swear this has actually made my phobia worse. He's just pooed on my back. I'm pretty sure... It's the one on my head that's freaking me out," the One Direction star said.
"This is the worst day of my life, all thanks to James Corden. I usually trust you but I just had three pigeons and one of them pooed on me. Can we just get back in the car now? Please," he added, with clear annoyance on his face.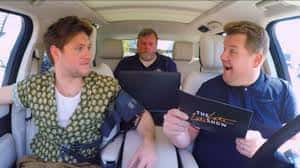 Have a watch for yourself